Van Andel & Peace Fine Jewellery is a luxury jewelry brand with a very distinctive style and it was established in 1999 In Amsterdam by myself, Karen Peace and my husband, Kees Van Andel
Kees studied at the Rotterdam school of fine art, and soon developed his passion for making fine jewelry. Originally from the UK, I have always been a traveling entrepreneur and opened my first fashion boutique in Amsterdam when I was only 22 yrs old. Together we continued to create our own unique handcrafted fine jewelry designs and moved our studio to Goa, India.
We are a local business. We employ our artisans from a long lineage of master goldsmiths and with our guidance, they have become experts in crafting and handmaking our particular style of unique and beautiful jewelry pieces.
Our workshop is bright, happy, environmentally friendly and sustainable. Each piece of jewelry is crafted by hand from start to finish using organic traditional craft methods in metalworking and is personally overseen by the master, Kees van Andel, with his meticulous attention to detail.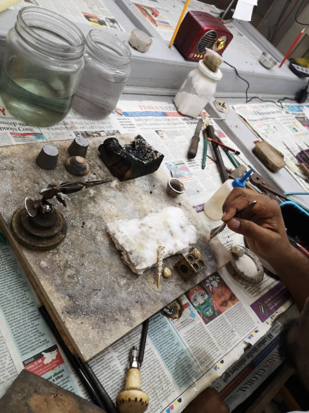 We work only with the highest quality gemstones and diamonds which we source personally and responsibly in gem markets throughout India. We have worked closely for many years with the same family small gemstone business and our gems are of the purest of quality and handpicked for their unique and exceptional characteristics. We buy pure metals and melt precisely to create our own exact 22ct and 18ct gold and sterling silver.
Each piece is created by our artisans with love and care and is totally unique, there is no casting and no duplicates. It can take from between 3 days for a simple ring to 2 weeks for a complex and intricate design to be made, so you can be sure that your own special Van Andel & Peace design is unique for you and you alone.
We have a strong belief that handmade jewelry has more love and soul compared to machine-made pieces, and we are passionate about keeping these traditions alive, and by working with local artisans we not only help support them and their families but also keep alive their vanishing art.